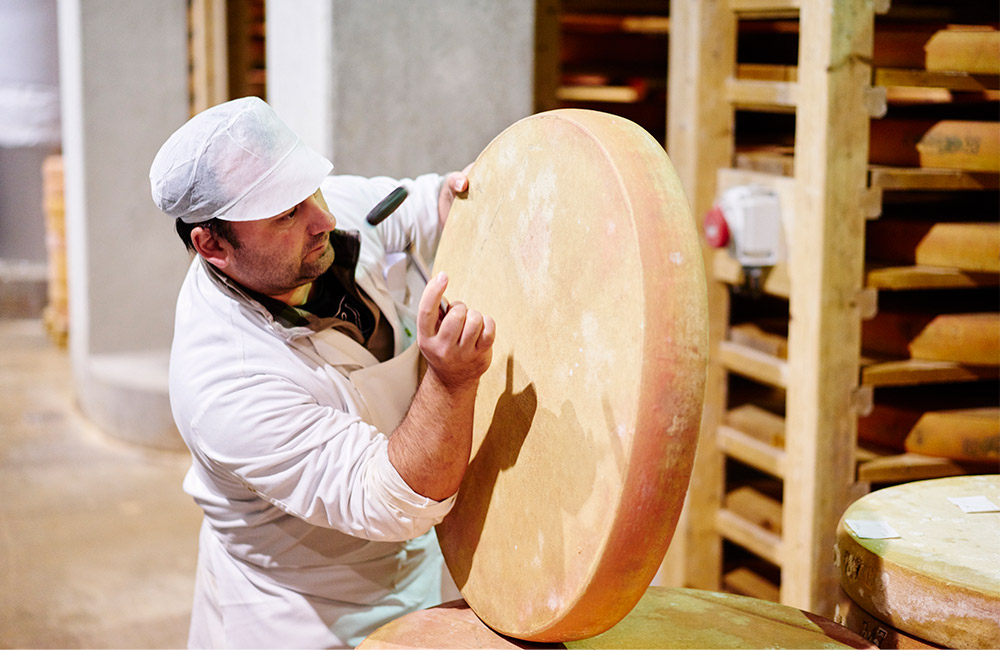 Marcel Petite, Fort Antoine, France
At the heart of all Comté production is the relationship between the "fruitière" or producer and the "affineur" or maturer. Given the length of maturation and the size of the cheeses, the average fruitière does not have room for more than a few weeks' production. Therefore affineurs, like Marcel Petite, supply the space and conditions necessary to carry on the process of ripening. Regular meetings take place between dairies, cheesemakers and the affineur to maintain such a high-quality product.
Marcel Petite works closely with thirty-six small fruitières across the Jura and Doubs mountains and collects wheels of Comté that are around two weeks old and takes them to the Fort St Antoine.
Built at the end of the 19th century, Fort Saint Antoine lies on the French-Swiss border.  Originally a garrison for 400 men, Marcel Petite took over Fort Saint Antoine in 1966. He saw in the thick stone walls and natural cool temperatures a place to engage his philosophy of "affinage lent" or slow maturation. Fort Saint Antoine now houses over 100,000 wheels of Comte, along with other examples of traditional Franche-Comté cheeses.
Marcel Petite allowed nature, place, and season to guide his affinage and that tradition continues today. Their philosophy is to sell each cheese when it is at its absolute best, regardless of age.
To that end, a team of Cellar Masters regularly assess the cheeses: tapping them to hear structural changes in the paste, feeling them for the right humidity and ultimately tasting them for flavour using a cheese iron. 
We travel to the Franche-Comté in Eastern France every five to six weeks where we visit Fort St. Antoine. When we visit, we are guided through around 20 batches of cheese which the Cellar Masters think fall within the flavour profile we are looking for. After a couple of wonderful hours, we select four or five of our favourite batches to bring back to the UK and sell to our customers.